Is Brass Making a Comeback?
Updated: Mar 17
After years of chrome, stainless steel, and nickel being the shining stars of interior metals, brass is back and starting to steal the show.
As with many home furnishings trends, the comeback was inspired by what's occurring in fashion. In this case, gold and rose gold watches became popular a few years ago, so smaller brass details are in, equivalent to a minor gold accent of a watch. By no means is brass coming back full-fledged like we witnessed in the late 1990s, but small details of brass are deemed "okay" by interior design experts.
In fact, they are officially accepted by most of the public as well! Using brass now is an easy, affordable way for homeowners to customize and stay on trend. Brass provides a warmer look, which is also visible in fabrics as warmer colors become more popular again. (Those cooler grey, black and white colors didn't stick around for too long.)
This may be frustrating to some of you who replaced every brass piece in your home with stainless steel or dark brown metals in the early 2000s, for fear of flaunting the gaudy, shiny brass metal around your home. But like any trend, what goes around comes around and brass is officially back - possibly in a more sophisticated, muted way.
We've gathered some tips and tricks to help brass make a comeback, but in the most classy ways possible. This article will review five ways you can use brass in your home, without returning to the 90s interior decorating trends.
1) Use sparingly
This may be good news to you brass-loathers. New trends claim that brass works best when used in small doses. Too much can create a "too matchy-matchy" look, especially when trends today are all about diversification in textures and styles. Overuse can make it start to look cheap, so moderation is key.
In other words, don't go overboard with one type of metal, and don't go overboard with metal in general. Especially when the finish is as harsh as brass. Incorporate different textures and colors to dull the bright metal.
2) Mix finishes
Brass appears more timeless rather than trendy when it's matte, brushed, or aged, which helps soften its dreaded shiny sheen. But be careful when mixing brasses from different manufacturers - some brasses take on a bright yellow color while others can be more of an aged gold.
3) Combine warm metal colors
Brass, gold, and bronze can work well together since they share similar warm tones versus shiny nickel and stainless steel, which both lean toward the colder side. We briefly discussed the rising popularity of industrial designs of the 21st century, and combining metals like this contributes to this trend. We see this in fashion as well - in the past it was unheard of to combine gold and silver jewelry, for example. But today, we see interior design trends changing alongside fashion.
If you want to try combing metals but want to keep it muted and more conservative, try mixing metal colors with similar tones. Either mix black, stainless steel and silver together for a colder look, or mix rose gold, brass and gold for a warmer look.
4) Mix metals
If you are more brave, some designers also think brass, satin, brushed nickel, stainless steel, and oil-rubbed bronze can be used together. Again, encouraging the industrial style to shine through. However to maintain consistency, most designers recommend using similar warm, muted undertones. Chicago designer Summer Thornton likes mixing metals, particularly in kitchens and bathrooms where she might use brass, nickel, and steel combinations.
5) Consider longevity
How long brass will stay fashionable is unknown. We witnessed it go out of style for a solid 15-20 years when cooler, darker metals became popular interior finishes. The good news is that minor brass touches are easy to add in and switch out. The key word here is minor. Keep brass touches small and simple, so that if the style changes in another 15 years, you won't have to make massive changes to your home.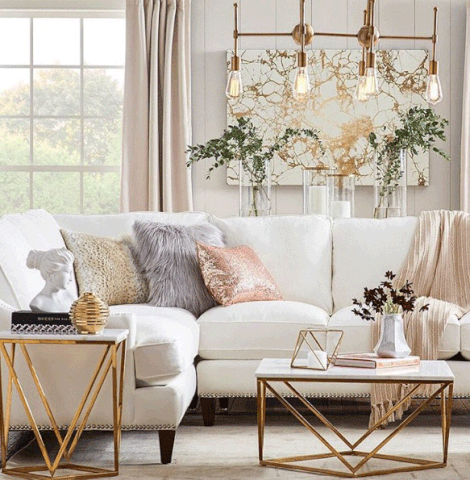 Whether you're here to welcome brass with open arms, or you'd rather see it disappear from the face of the earth, remember that trends come and go every 20 years or less. So keep an open mind to every metal and every design, but most importantly find the design that suits YOU and your home.
Happy decorating!